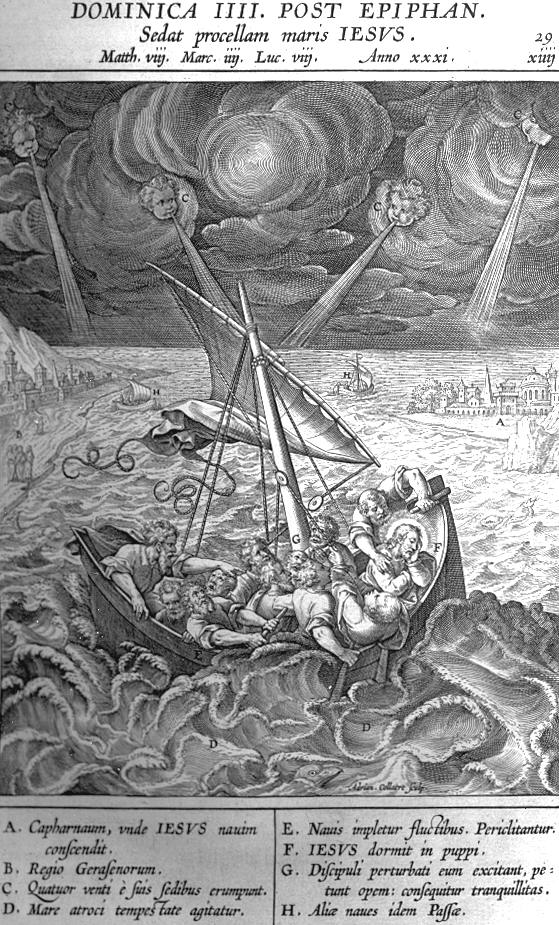 A great gale arose,

and the waves beat into the boat,

so that the boat was already being swamped.

and they woke him up and said to him,

do you not care that we are perishing?'

He woke up and rebuked the wind

Mark 4:37-39 NRSV
One of the factors within the stilling of the storm is the fact that Jesus is asleep, and the disciples are worried and think that he doesn't care.
Within Mark's Gospel (and the other synoptics, but we are dealing with Mark here. To me it makes sense to compare Mark with Mark. It is his wording and version of events that is being looked at.) this is the only time Jesus is actually stated as being asleep. This isn't to say that He didn't sleep at other times. In fact, when He does stay up all night, a point is made of it. However, the fact that this is the only time Mark actually mentions Jesus sleeping may be of some import.
Within the Psalms of the OT sleep is used in two different ways. One expresses an idea of when things are bad, God is viewed as being asleep:
Rouse yourself! Why do you sleep, O Lord?

Awake, do not cast us off for ever!
Why do you hide your face?
Why do you forget our affliction and oppression?
This is how the disciples on the boat are thinking.
Another representation where being able to sleep can represent complete trust in God:
I will both lie down and sleep in peace;

make me lie down in safety.
This is how Jesus is represented in the boat. He has complete faith in the Father. Storm or no, He knows it will be fine. This may be a little easy however.
In this case, I think the agony at Gethsemane may hold the meaning
On the boat, it is Jesus who is asleep, and the disciples who wake him up.
In Gethsemane, Jesus asks the disciples to stay awake, yet they fall asleep.
for you all things are possible;
Here, Jesus lets us know what the whole point of it is. It is about what we want, or think is fair. It is really about letting go. It is about trusting, faith, and knowing that what God wants for us is.
I have to admit I am finding this the most difficult part of all this. I really want to say that when Jesus was aware of the full extent of what lay in store for Him at Calvary, He too was worried. He too asked God the Father to sort it out for Him. But it isn't that simple. He adds, that He is aware it is not His decision, but the Father's. He was aware of the awfulness of what was to occur, yet He had total faith in God the Father. He trusted.
If we are Christians, how do we respond? When our lives turn to mush?
Have you still no faith?'